Introduction
As all homeowner know, if you want a nice and tidy looking property you'll have to work for it. This includes regularly mowing the lawn. If you want your lawn to have a well maintained look, you'll need a dependable lawnmower to cut the grass evenly- but with so many options out there, how can you choose a model with confidence? Read on to find out if a hover lawnmower will suit your property maintenance needs.
Hover lawnmowers are a sub type of the rotary mower. Simply put, this means it has a sharp blade that rotates horizontally around a vertical axis as you walk behind it. It can be powered by either petrol or electricity. The spinning blades create enough pressure to create a cushion that lifts the mower off of the ground. It does this by sucking in air from above the spinning blades. Classic rotary motors are also easily identified by their wheels. These wheels limits the operator to mowing in straight forward and backward lines. On the other hand hover lawnmowers are much more manoeuvrable and can be moved forward, backwards or sideways because they are not in direct contact with the ground thanks to the cushion of air the blades produce.
When shopping for a lawnmower, it's crucial to be aware of its features, its power source and its intended use. You can find hover mowers at local shops, as well as online retailers like Amazon. All amazon products are quality assured, so you can shop at a discount without compromising on quality for your next mower purchase.
Should You Buy a Hover Lawnmower or a Rotary Mower?
Making a decision when it comes to buying a lawnmower can be difficult, especially if you're not sure what each mowers strengths and weaknesses as well as intended uses are. Our hover mower review wouldn't be complete if we didn't discuss the factors you need to consider when buying a new lawnmower. Keep reading to learn more about the factors you need to be considering.


Do You Want a Striped Lawn?
If you're looking to add a striped line effect to your lawn, a hover lawnmower is not what you're looking for. Simply put, you should buy a classic wheeled rotary lawn mower as hover mowers do not support rear roller attachments. In case you're wondering what a rear roller is, it's a weighted roller that attaches to the back of your walk-behind mower and flattens the grass as you mow your grass. By its very design the hover lawnmower cannot accommodate a weighted roller, as its weight would prevent the mower from hovering off of the ground. For a detailed guide, we recommend this resource.
For less than 100$, purchase a rear roller attachment so that you too you too can be the proud owner of a striped lawn.
What Kind of Shape is your Lawn In?
If the surface of your lawn has lots of imperfections, you'll enjoy the fact that hover lawnmowers can easily mow over bumps, holes and hills. If your yard several hard to reach places, the hover mowers ability to move sideways while mowing will save you precious time.
The Weight of the Mower.
While the ability to move hover mowers side to side makes them convenient when mowing hard to reach spaces, it can become quite taxing on the arms. That's why you should always consider the weight of the hover lawnmower you plan to purchase. A wheeled rotary mowers might suit your needs better if weight is a concern and you don't mind being limited to mowing in backwards and forward motions.
Does your Property Have Slopes?
Slopes are another primary concern when it comes to choosing between a rotary lawn mower and a hover mower. Properties with lots of slopes truly allow the hover lawn mowers to shine. The hover mower is lighter when going uphill than a classic rotary lawn mower as the cushion of air it rests on eliminates all friction with the ground.
Slopes are an obstacle for most lawnmowers, but not hover mowers!
Ease of Assembly.
For the less tool-savvy among use, one of the greatest features of the hover lawnmower is the fact that they can be used straight out of the box. Rotary mowers on the other hand require a significant amount of assembly before they can be used.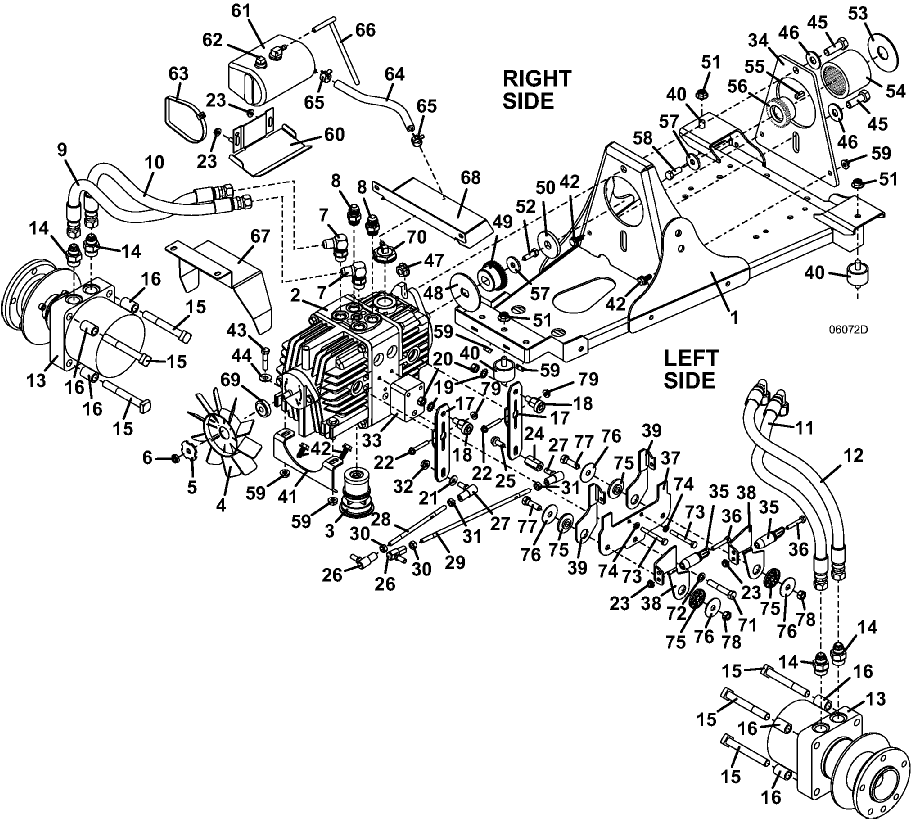 Staring at something like this isn't most people's idea of a fun time.
Features of a Hover Lawnmower
Believe it or not, there's more to a lawnmower than how quickly it cuts your grass. You also need to keep in mind your hover lawnmower's grass collection mechanism, as well its wheels and rollers.
Blade for a hover lawnmower

Click HERE or Above Image for Amazon Pricing and Reviews
When it comes to any sort of rotary mower, you can easily adjust the height that is selected for cutting grass by changing the height at which the horizontal blades rotate. Blades come in many materials, from incredibly durable metal, or hard plastics like nylon. Although these blades must be changed when they start to wear down as they become a hazard, they are produced to last for a long time.
These blades come with an indicator that notifies the owner when it is time for them to be replaced. Luckily, hover mower blades do not need to be changed as often as cylinder mower blades. That makes hover lawnmowers a great choice for those who aren't interesting in regular lawnmower maintenance.
The blades have the ability to trim grass at a large interval of heights: as short as half an inch or as tall as several inches. The large interval comes in handy when mowing a property with an uneven surface. The use of a hover lawnmower will prevent an uneven looking trim.
Grass Collection Box for a Hover Lawnmower
Some hover lawnmowers come equipped with a rear mounted grass collection box. Others have integrated grass collection systems that require less frequent emptying. Generally, models with integrated grass collection systems also feature a viewing panel that allows you to assess how full the box is. You'll want to empty it when it gets close to full to avoid it spilling out, or even worse making the mower heat up.
This short how-to video shows off the grass collection box feature of Flymo's hover lawnmowers.
Differences Between Electric Hover Lawnmowers and Petrol Hover Lawnmowers
Petrol hover lawnmowers
Click HERE or Above Image for Amazon Pricing and Reviews
When it comes to petrol hover lawnmower start-up mechanisms, there are two main categories. More commonly, you will need to firmly pull a recoil starter cord to turn on the mower's engine. Slightly less common is the electronic ignition key found on some of the more expensive mower models.
Electric hover lawnmowers
Click HERE or Above Image for Amazon Pricing and Reviews
Although they provide less power, electric hover lawnmowers are much more environmentally friendly and require less maintenance than their petrol counterparts. Of course, there is an obvious downside to the electric hover lawnmower, which is the fact that it is hazardous to use it over wet terrain.
Picking a power source
When it comes to time to pick a power source, it's wise to pick based on the size of the property you intend to mow. For smaller to medium size lawns, electric hover lawnmowers are ideal, as they are light and manoeuvrable. If however you don't want to have a long extension cord connecting your lawn mower to your house, a small petrol mower might be more appropriate. For larger lawns over 300-400 square meters you'll want a more robust petrol lawnmower.
Conclusion.
At the end of the day, your lawn can be trimmed with all sorts of different lawn mowers. Hover mowers are a great choice for your lawn for a number of reasons: they are ideal for mowing hard to navigate areas (between flowers beds and paths, for example), they can evenly trim imperfections in your property like bumps or holes and they are easy to push up hills. The hover lawn mower's ability to excel under these circumstances is thanks to the fact that it floats lightly over the grass due to the cushion of air that its blades produce.
Each models trimming height can be easily adjusted by changing the height at which the horizontal blades rotate. The blades are usually made of long lasting metal or a hard plastic like nylon. Luckily you hardly need to be an expert to maintain your hover mowers blades. Simply remove the blades and replace them with a fresh pair when you're notified by the indicator that it's time to do so.
Another nice feature your hover mower may come with is a grass collection box. Depending on the model, it can be rear mounted or integrated into the mower itself. Integrated grass collection boxes usually have a viewing panel so you can make it never gets too full.
As far as power sources go, there are two categories: electricity and petrol. While electric mowers are eco-friendly and require less maintenance, they are primarily designed for small lawns as they must remain plugged into an extension cord at all times. Petrol mowers are more suited to larger lawns as they do need to remain in proximity of an outlet.
Drop us a comment and let us know if our hover mower review helped you with your lawnmower purchase!
Comments
comments